How can you get involved with DE+I activities?
You have numerous opportunities to participate directly in DE+I groups and programs at Beckman Coulter Life Sciences. In addition to Danaher ARGs and the programming they schedule each year, you can also choose to participate in a DE+I Council in your geographical area, the DE+I Champion Network, or BEC LS Voices.
The DE+I Global Council
This cross-functional team is charged with reassessing, refining and adjusting our DE+I approach by exploring potential challenges, elevating successful practices, and collaborating on solutions to accelerate positive progress.
The Council meets quarterly to discuss global, regional and site-specific DE+I topics that impact our associates around the world.
The Global Director of DE+I also oversees local and regional council leaders in these geographic areas:
Regional Councils
China
Greater EU
Japan
METAI
North America/Latin America
TASK
Site Councils
Indianapolis, IN, USA
Loveland, CO, USA
Marseille, France
Suzhou/Dalian, China
San Jose, CA, USA
About the DE+I Champion Network (DCN)
A key subset of our Global DE+I Council, the DCN is a volunteer network of global associates with a passion for advancing DE+I programming throughout our company.
DCN members help accelerate our DE+I Mission & Vision by serving as trusted advisors, subject matter experts, allies, supporters, facilitators and coaches on DE+I topics.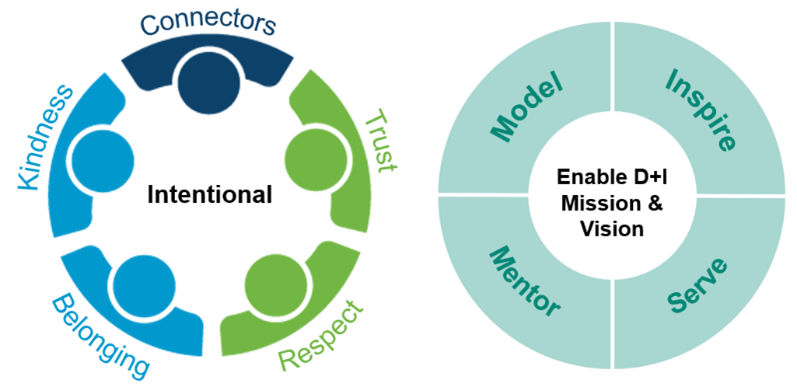 DCN members are intentional in their commitment to promoting the DE+I mission and vision at Beckman Coulter Life Sciences.
As you might expect, they represent a diversity of backgrounds, career levels, and experiences, and share a commitment to bringing relevant DE+I topics, programming and initiatives front and center.
Recently, the DCN introduced a D.I.B.E. (Diversity x Inclusion = Belonging > Engagement) program designed to increase manager and associate awareness of:
Understanding Brain Dominance
DISC leadership styles (Drive/Influence/Steady/Conscientious)
Understanding introversion and extroversion
What is BEC LS Voices?
We can all learn by listening to each other.
BEC LS Voices is an ongoing series of moderated webinars where our associates share their stories and insights—with the goal of creating a safe space for the exchange of human experiences that inspire lasting change on a personal level.
Through this forum, we help create awareness, establish connections, foster empathy, and encourage mutual respect. Each session focuses on a specific topic and is moderated by a BEC LS associate.
Don't feel comfortable sharing? That's OK – you can just listen. You might be surprised what you learn from your colleagues.
To learn more about DE+I activities, including how you can get involved, email our Office of DE+I at diversityandinclusion@beckman.com.
DE+I Navigation
DE+I Activities