SPRI Grants for Genomic Research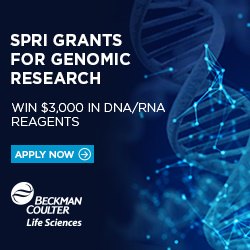 When: The SPRI Grant Program for genomic research is open for submissions year-round. Up to eight winners will be selected each year.
Where: Information, updates, and the application process can be found on this page.
How to apply: Complete the entry form below and include the appropriate research area with a short summary of your project and your plan for using our reagent solutions.
Previous winners:
Find out more about our previous Grant Program winners
here
.
Official rules: For full terms and conditions please click here.
Grant Program Research Areas



Automated Nucleic Acid Extraction

The Biomek i5 Nucleic Acid Extraction Solution is an ideal platform for medium- to high-throughput laboratories looking to automate nucleic acid extraction. The Biomek i5 workstation is configured for rapid implementation of extraction or cleanup chemistries from Beckman Coulter Life Sciences.



Liquid Biopsy

Beckman Coulter Life Sciences focuses on solving the yield and recovery challenges in current liquid biopsy isolation and extraction workflow to accelerate study timelines in early cancer biomarker discovery.



Long-read Sequencing

Beckman Coulter Life Sciences provides high molecular weight DNA extraction and cleanup products that are suitable for downstream long-read sequencing applications.



Genomics Applications

Beckman Coulter Life Sciences offers end-to-end solutions for genomic scientists, with support and guidance throughout your workflows.
Enter Today!
SPRI Grants for Genomic Research
2022 SPRI Grant Winners
2021 SPRI Grant Winners
Click here for official rules and eligibility for the SPRI Grant Program
Submission is not confidential. Do not share confidential information.
Not intended or validated for use in the diagnosis of disease or other conditions.
© 2022 Beckman Coulter, Inc. All rights reserved. Beckman Coulter, the stylized logo, and the Beckman Coulter product and service marks mentioned herein are trademarks or registered trademarks of Beckman Coulter, Inc. in the United States and other countries. All other trademarks are the property of their respective owners.