Company History Timeline
Company Milestones of Beckman Coulter — Events in Chronological Order
Pre
National Inking Appliance Company was formed as a subsidiary of National Postal Meter Company on November 26, 1934. The name was changed to National Technical Laboratories on April 8, 1935 and considered the beginning of the company.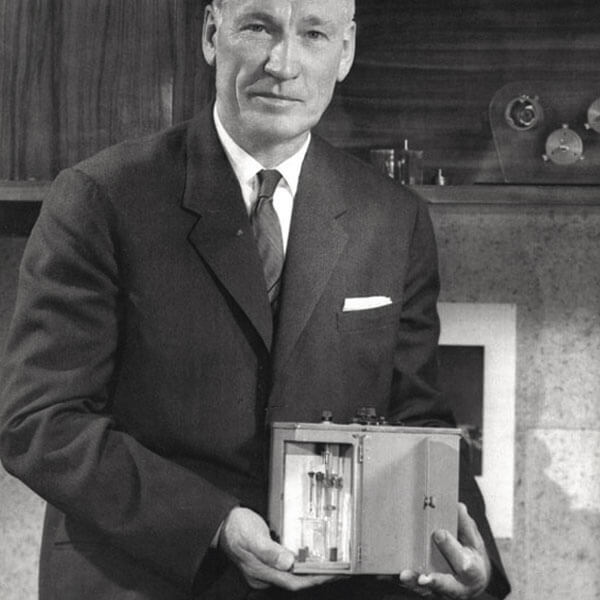 1935 Dr. Beckman founded National Technical Laboratories in Pasadena, California. First Beckman pH meter sold; 87 units were sold in the first year grossing $11,215.95.
1938 Model G and Model M pH meters introduced. Experimental work continued on meter inks, a recording pH meter, oxygen regulator, steam iron, chemical thermometer and others.
1940 Moved into own building in South Pasadena.Dr. Beckman left Caltech to devote full time to the development and manufacture of scientific instruments. Introduced two more products that set company's growth course – Helipot® Potentiometer followed in 1941 by DU® Spectrophotometer.
1941 DU® Spectrophotometer.
1942 MIT's Radiation Laboratory asked National Technical Laboratories to produce Helipots for then-secret RADAR systems.
1943 Helipot Corporation formed.
1946 Began construction of 27,000 square foot additional plant in South Pasadena. Between 1941 and 1947 sales increased by a factor of more than 10 to $2,675,712.
1950 Company name changed to Beckman Instruments, Inc. (April 27, 1950)

1952 First public stock offering: 371,553 shares at $12.50 per share. Stock listed on New York Curb Exchange (now the American Stock Exchange). Beckman acquired Helipot Corporation and Berkeley Scientific Corporation, a manufacturer of high-speed electronic counters and radioactivity instruments.
1953 Established Beckman Instruments, GmbH in Munich, Germany - the company's first overseas subsidiary and the first American plant in post-war Bavaria.

1954 Stock listed on Los Angeles and San Francisco Stock Exchanges (now Pacific Stock Exchange). Beckman headquarters and principal operations moved from Pasadena to a new facility in Fullerton, California. Acquired Arga Division, devoted mainly to governmental contracts for research and development and production of special devices.
1955 Beckman stock listed on New York Stock Exchange (NYSE). Beckman acquired Specialized Instruments Corporation (SPINCO), manufacturer of centrifuges; Liston-Becker Instrument Company of Stamford, Connecticut, a manufacturer of non-dispersive infrared analyzers; and established Shockley Semiconductor Laboratories.
1956 Acquired Watts Manufacturing Company in West Virginia manufacturer of process gas chromatographs; Lou-Bar Company; and Belock Instruments Corporation.

1958 Beckman Instruments acquired Arnold O. Beckman, Inc. and also merged Helipot into Beckman. Established Beckman Instruments, Ltd., Glenrothes, Scotland.
1959 Acquired Kruger Instruments Co., Pasadena, California, manufacturer of air quality instruments, and Tool Lab, Inc.
1960 Established Beckman Instruments International, S.A., Geneva, Switzerland. Sold assets of Shockley Transistor Corporation to Clevite Corporation.
1961 Acquired Offner Electronics, Inc., Schiller Park, Ilinois, manufacturer of direct-writing oscillographs and electroencephalographs.
1962 Established Beckman-Toshiba, Ltd. To manufacture and distribute Beckman products in Japan. Acquired Stevens-Evans Company (voltmeters and voltage regulators).
1963 Established U.S. direct sales and service organization for laboratory instruments previously sold through dealers. Acquired Sharp Laboratories, La Jolla, California, a manufacturer of nuclear instrumentation. Established Beckman Instruments (Pty.) Ltd., Cape Town, South Africa. Acquired Promesur, French instrumentation dealer. Established Beckman Instruments France, S.A., Paris.
1964 Established manufacturing plant in Porterville, California.
1965 Dr. William F. Ballhaus joins Beckman as President and member of the Board of Directors. Dr. Beckman named Chairman of the Board. Sales exceed $100 million. Acquired General Instruments Co., Ltd., London, a manufacturer of analytical instruments and accessories. Acquired Industrial Instruments, Inc., Cedar Grove, New Jersey, a manufacturer of solution conductivity analyzers and other industrial instruments (Beckman Cedar Grove Operations).
1966 Formed a new subsidiary firm: Beckman Instruments de Mexico, S.A. de C.V., Mexico City. Established Beckman Instruments (Puerto Rico) Inc., San Juan.
1967 Acquired the Republic Division of Rockwell Manufacturing Company.
1968 Formed Clinical Instruments Operations, organizational unit to market products applicable in hospitals and clinics. Established Microbics Operations to develop and produce enzyme materials. Established Beckman Instruments, G.m.b.H. (Vienna); Beckman Instruments, Nederland, N.V., Amsterdam; and LKB-Beckman Instruments, AB, Stockholm, Sweden.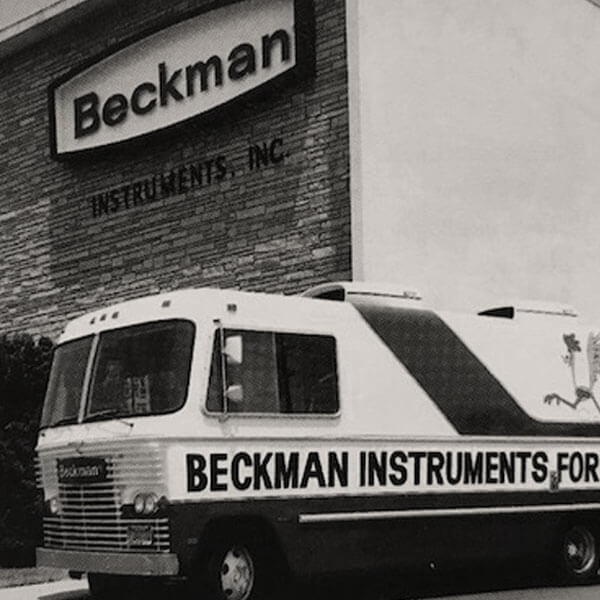 1969 Established Analytical Instruments Sales and Service Division (AISSD).
1970 Established Diagnostics Operations to develop and produce clinical reagents. Established Bioproducts Operations to produce synthetic hormones and other biochemicals. Formed Oceanic Equipment Activity, products for oceanographic research. Acquired several lines from Oceanic Equipment Corporation, Miami, Florida. Formed Automation Products Activity to accelerate incorporation of advanced computer techniques in product development. Formed Beckman Instruments Italiana S.p.a., Milan, Italy.
1971 Established Beckman Instruments (Ireland) Inc., Galway. Established Science Essentials Operations to distribute laboratory instruments and other equipment produced by Beckman and other manufacturers.
1972 Established Beckman Instruments (Process) S.A., Geneva, Switzerland.
1973 Beckman Microbics Operations occupies new Carlsbad, Calif. plant to expand production of clinical reagents and other biochemicals. Acquired Sperry Rand Corporation's Sperry Information Displays Division, Scottsdale, Arizona, a manufacturer of planar gas discharge displays.

1974 Completed new plant in Irvine, California for Scientific Instruments Division. Acquired Greiner Scientific Co., New York, a distributor of laboratory instruments and supplies.Three worldwide business groups established: Analytical Instruments, Process Instruments and Controls, and Electro-Products. Biological and Fine Chemicals Division established. Established Beckman Instruments (Holding) Ltd., Glenrothes, Scotland.

1977 Beckman established Automotive Test Instruments Operations in Fullerton, California. Established Electro-Products Sales Operations. Beckman established Beckman Instruments (Japan) Ltd., Tokyo. Established Beckman Instruments (Process) B.V., Midjrecht, Netherlands.

1978 Acquired Altex Scientific Inc., Berkeley, California, a manufacturer of high performance liquid chromatography (HPLC) systems. Established Advanced Electro-Products Division. Established Display Systems Division, combining liquid crystal (LCD) and gas discharge display activities.

1979 Clinical Instruments Division opened new plant in Brea, California. Two Beckman executives kidnapped by terrorists in El Salvador and returned safely after (undisclosed) ransom payments.Discontinued component manufacturing operations in El Salvador, following the kidnap and safe release of two American employees by a revolutionary group.

1980 Beckman acquired SpectraMetrics, Inc., Andover, Massachusetts, a manufacturer of plasma emission spectrometers. Established Beckman Instruments AB, Bromma, Sweden. Established Beckman Instruments (Hong Kong) Ltd., Kowloon, Hong Kong.

1981 Established Beckman Technical Center in People's Republic of China, Beckman/ CSIMC, Beijing. Established Beckman Instruments (Australia) Pty. Ltd., Melbourne. Offices in Melbourne for Process Instruments and Controls and in Sydney for Analytical Instruments. Established Health Care Products Organization to combine and direct all Beckman health care activities. Established Beckman Instruments Singapore (Pte.) Ltd.

1982 Beckman Instruments merged with SmithKline Corporation, Philadelphia, Pennsylvania, to form SmithKline Beckman (SKB) Corporation. Beckman Instruments becomes a subsidiary of the new corporation. Dr. Beckman elected a director and subsequently a vice chairman (1984) of SKB. Dr. William F. Ballhaus retired. Louis T. Rosso named President and Chief Operating Officer.

1983 Acquired Micro-Media Systems, Inc., Potomac, Maryland, producer of clinical microbiology products. Acquired Computer Inquiry Systems, Inc., Waldwick, New Jersey, a designer and manufacturer of digital computer systems for analytical laboratory automation, process control, and energy distribution control. Physiological Measurements Operations, Anaheim, California, sold to SensorMedics Corporation.

1984 SKB Industrial Group sold to Emerson Electric Co. (includes: Beckman Electronic Technologies, Process Instruments and Controls Group and Cedar Grove [N.J.] Operations. SmithKline Ultrasonic products: Krautkramer Branson, Branson Sonic Power Company, Branson Cleaning Equipment Company and Branson International Plasma Corporation). Beckman EEG product line (Schiller Park, Illinois) sold to Teca Corporation, Pleasantville, New York.

1985 Beckman Microtox product line and microbial-based sensor technology for toxicity testing sold to Microbics Corporation, Carlsbad, Calif. Beckman radioimmunoassay business sold to Cambridge Medical Technology Corporation, Billerica, Mass.
1988 Beckman re-listed as a public company on the New York Stock Exchange (NYSE); 16% of SmithKline Beckman. Louis T. Rosso named President and Chief Executive Officer.
1989 Beckman established again as an independent corporation, after a partial spin-off from SmithKline in 1988.

1991 Beckman operations in Galway, Ireland; Fullerton, Brea, and Carlsbad, California, received Quality System Certification from the National Standards Authority of Ireland (NSAI), an authorized agency of the European Community (EC). Repurchased up to one million shares of Common Stock. Closed plants in Glenrothes, Scotland, and San Ramon, California. Acquired Porton Instruments, Tarzana, California.
1992 Company obtained first CE Mark for Model pHI™ 12 pH Meter. Dr. Beckman affixed stamp. Beckman put coveted CE Mark on six scientific instruments: pHI™ 10, 11 and 12; DU® 640 and 650; Oligo 1000 DNA Synthesizer and the SYNCHRON CX® 3 Clinical Chemistry Analyzer.
Beckman's Laboratory Automation Operations (LAO) facility in Allendale, N.J.; Palo Alto, and Porterville, California, registered as ISO 9000 sites in compliance with EC 1992 quality standards.
Beckman subsidiaries in High Wycombe, U.K. and The Netherlands earned ISO 9000 registration.
Beckman subsidiary in Munich, Germany received ISO 9000/EN 29000 registration in compliance with the EC trading requirements.
Beckman in Milan, Italy certified to ISO 9000 quality standard.
Beckman in Gagny, France; Madrid, Spain, and Nyon, Switzerland earn ISO 9000/EN 29000 registration.
Beckman in Gladesville, Australia was certified by Datnor-Norski-Veratis to ISO 9000/AS 3900 quality standards.
1993 Repurchase authorized for 3 million shares within a three-year period, 1 million per year, to pre-fund existing stock-oriented employee benefit plans. Beckman in Bromma, Sweden; Distribution Center in Munich, Germany; Paso Robles and SKD-San Jose, Calif.; and Pennsylvania earned ISO certification.

1994 National Standards Authority of Ireland (NSAI) recommended Beckman South Africa operations for ISO 9001 certification, bringing to 23 the number of facilities with ISO 9000 registration. Beckman announced establishment of Beckman Eurocenter S.A. in Nyon, Switzerland. Beckman sold Paso Robles operations to JIT Manufacturing. DNV recommended Beckman Singapore operations for ISO 9002 registration; 24 total number of facilities with ISO 9000 registration.
1995 Beckman invested $5 million in Sepracor, Inc., the parent company of BioSepra, Marlborough, Massachusetts.
1995 Beckman announced intent to acquire Genomyx, Inc. (largest shareholder is Genentech) over three years. Beckman introduced its World Wide Web site. Beckman announced intent to acquire Hybritech Incorporated from Eli Lilly & Company. Hybritech develops, manufactures, and markets in vitro diagnostic tests to diagnose, manage treatment of, and monitor conditions such as cancer, cardiovascular disease, endocrine and infectious disease. National Standards Authority of Ireland (NSAI) recommended Beckman field operations in Poland and Austria for ISO certification completing registration of all Beckman European field operations.
1996 Beckman Irvine closed and monoclonal antibody development operations relocated to Hybritech in San Diego. Beckman announced distribution agreement with SAGIAN, Inc. in Indianapolis, Indiana, for ORCA™ robot system and SAMI™ software, in combination with Beckman's Biomek® 2000 Lab Automation Workstation. National Standards Authority of Ireland (NSAI) approved the Beckman European Administration Center for ISO certification. Beckman completed the acquisition of Genomyx, Inc. in Foster City, California. Beckman acquired 75 employees and the net assets of the laboratory robotics division of SAGIAN, Inc., Indianapolis, Indiana.
1997 National Standards Authority of Ireland (NSAI) approved Hybritech for ISO 9001 certification. Beckman announced plans to acquire the ACCESS® immunochemistry product line in Chaska, Minnesota, from Sanofi Diagnostics Pasteur.
1997 Beckman outsourced information systems to Systems Management Specialists (SMS) in a five-year contract valued at $23 million. SMS agreed to provide infrastructure and MIS strategic direction. Beckman acquired Coulter Corporation, the leading manufacturer of systems for blood and other cell analysis, for $875 million in cash and assumption of $175 million in debt. The acquisition created a $1.7 billion corporation that can provide 75% of the most commonly used tests for clinical diagnostics.
1998 Company changed name to Beckman Coulter, Inc. Lou Rosso retired as Chief Executive Officer. John P. (Jack) Wareham named President and Chief Operating Officer. Sold interest in four properties and entered into long-term leases: Brea and Palo Alto, California; Chaska, Minnesota; and Miami, Florida.
2000 Established new business unit in San Diego, Immunomics Operations – to focus on cellular immune response technologies. Announced an increase of cash dividend from $0.080 to $0.085 and declared a two-forone stock split in the form of a 100% stock dividend payable December 7, 2000.
2001 Announced the formation of three divisions aligned with the biomedical testing continuum: Life Science Research, Specialty Testing and Clinical Diagnostics. Acquired Anthos Labtec Instruments, G.m.b.H., an Austrian-based manufacturer of microtiter plate readers, washers and shakers. Moved and reconfigured cellular analysis instrument manufacturing from Hialeah, Florida to Kendall, Florida, completing the last integration activity from the Coulter Corporation acquisition.
2002 Scott Garrett named president, Clinical Diagnostics Division. Elias Caro named president, Biomedical Research Division.
2003 Beckman Coulter combined the Life Science Research and Specialty Testing divisions to form the Biomedical Research Division. Company received a net settlement of $26.9 million in claims against an escrow account established in 1997 when Beckman Instruments, Inc. acquired Coulter Corporation. Acquired the technologies of Peoples Genetics, Inc., which can be used to analyze large pooled populations – up to 100,000 samples – of individual patient DNA. Entered a settlement agreement with Flextronics International Ltd., granting Beckman Coulter $23 million in compensatory and punitive damages for breach of contract and other claims. Acquired the assets of Q3DM Inc. including a cell imaging platform, software and cell imaging applications.
2004 Dr. Arnold O. Beckman died at the age of 104. Jack Wareham retired. Scott Garrett appointed President and Chief Operating Officer of the Corporation. Increased the quarterly dividend payout ratio by 18%, the 13th consecutive year of increase in quarterly dividends.
2005 Scott Garrett named Chief Executive Officer effective February 21, 2005. Company increased the quarterly dividend payout ratio by 7.7%. Beckman Coulter board named Betty Woods non-executive Chairman. Beckman Coulter acquired Agencourt Bioscience Corporation, gaining technology for nucleic acid sample preparation.
2006 Sold the company's minority equity investment in Agencourt Personal Genomics (APG) to Applera Corporation for about $50 million cash. Signed an agreement to acquire Lumigen, Inc., a leading developer and manufacturer of novel detection chemistries for high-sensitivity testing in clinical diagnostics and life science research. Issued $600 million in convertible notes to refinance debt and repurchase about $100 million of the company's common stock (approximately 1.7 million shares).
2007 Announced relocation of the company's centrifugation business from Palo Alto, California, to Indianapolis, Indiana. Repurchased approximately 279,000 shares of BEC stock at an average price of $69.5 per share, and repurchased additional shares of BEC stock at an average price of $69.71 per share, completing the company's 2.5 million share repurchase authorization. Acquired the flow cytometry business of Dako Denmark AS.
2008 Abandoned two division structure (clinical diagnostics and life science) in favor of a "one company" configuration.
2009 Acquired lab-based clinical diagnostics business unit of Tokyo-based Olympus – by most reports the first time an American company had acquired a Japanese manufacturer of this scale. Company consolidated its Orange County, California facilities and opened its new world headquarters in Brea, California.
2010 Scott Garrett resigned as president, chairman, and CEO. Bob Hurley stepped in as interim president and CEO with Glenn Schafer to serve as chairman.
2011 BEC removed from S&P MidCap 400 Index. Danaher Corporate (NYSE:DHR) acquired Beckman Coulter at a purchase price of $83.50 per share or $6.8 billion. As a result, Beckman Coulter became an indirect wholly owned subsidiary of Danaher. Beckman Coulter's common stock ceased trading on the New York Stock Exchange.
2013 Acquired flow cytometry business of India's ReaMetrix to offer customers an extended line of technologies and broaden the reach in HIV monitoring and clinical research segments.
2014 Acquired cytometer maker Xitogen Technologies with fully staffed facilities in Suzhou and Dalian, China.
2019 Acquired acoustic liquid handling manufacturer Labcyte based in San Jose, California with several facilities around the globe. Acquired EDC Biosystems, an acoustic liquid handling manufacturer based in Fremont, California. Acquired Cytobank, a flow cytometry software company based in Mountain View, California.
2020 Acquired m2p-labs, a bioreactor manufacturer based in Baesweiler, Germany.