AQUIOS CL Durchflusszytometer
Das erste echte Load & Go Durchflusszytometer
Probenvorbereitung und Datenmanagement sind in der Regel die größten Engpässe bei der Routine-Durchflusszytometrie. Selbst mit einem halbautomatisierten Prozess verbringen Sie und Ihr Team möglicherweise Hunderte von Stunden pro Jahr für Aufgaben, die die Produktivität Ihres Labors nicht erhöhen.
Arbeiten Sie mit einem System, das Probenvorbereitung und Analyse in einer kompakten Plattform vereint.
Bieten Sie einen 24/7 Durchflusszytometriedienst an, da der AQUIOS CL von weniger erfahrenen Bedienern ausgeführt werden kann.
Steigern Sie die Produktivität mit hoher Durchsatzleistung, wodurch viele der am wenigsten effizienten Funktionen vorhandener Systeme eliminiert werden.
Minimieren Sie die Gefahr von Benutzerfehlern in bestehenden Systemen, für deren Einrichtung und Ausführung zahlreiche manuelle Schritte erforderlich sind.
Entdecken Sie das AQUIOS Tetra-System für die Lymphozytensubsetanalyse, AQUIOS PLG für CD4-Tests oder automatisieren Sie Ihren eigenen benutzerdefinierten Assay mit der AQUIOS Designer Software.


Eigenschaften
Load & Go
schnell, effizient, platzsparend
einfache Bedienung
vollautomatisch
Modulare durchflusszytometrische Systeme benötigen mit ihren separaten Modulen für Probenaufbereitung und -beladung sowie Probenanalyse ganze 3 bis 3,5 Meter (10 bis 12 Fuß) an Laborarbeitsfläche. Je mehr Module und je größer die benötigte Laborarbeitsfläche, umso höher sind zwangsläufig die Kosten. Der Aquios CL Load & Go ist ein vollständig integriertes System, eingebaut in einem 80 cm breiten (32 Zoll) kompakten Gehäuse. Die gesamte Stellfläche des Aquios-Systems beträgt einschließlich des All-In-One-Touchscreencomputers lediglich 1,5 Meter (60 Zoll) und sogar noch weniger, wenn Sie den Computer auf der Haupteinheit platzieren.
Geschwindigkeit und Probenzufuhr
Probenkassette oder Einzeleinzug
Bis zu 8 Kassetten mit je 5 Proben
kontinuierliche Probenzugabe
22 Minuten bis zum ersten Ergebnis
2 Minuten bis zum nächsten Ergebnis
Durchflusszytometrie kann einen komplexen Prozess darstellen, dessen erfolgreiche Ausführung hochqualifizierter Bedienung bedarf. Mit dem Aquios CL Load & Go Durchflusszytometer muss dies jedoch für die sich häufig wiederholenden Routineaufgaben in Ihrem Labor nicht der Fall sein. Der Aquios überzeugt durch einfachste Erlern- und Bedienbarkeit. Geringer qualifizierte Benutzer können schnell, effizient und mit geringem Schulungsaufwand vor Ort eingearbeitet werden. Damit können Ihre qualifiziertesten Mitarbeiter dort eingesetzt werden, wo sie tatsächlich gebraucht werden - bei der Ausführung komplexerer Aufgaben. Einfachheit, Nutzerfreundlichkeit, Produktivitätssteigerung - dies sind die herausragenden Eigenschaften des Aquios Load & Go.
Nutzerfreundliche Software
einfach zu erlernen
einfach zu bedienen
einfach zu trainieren
24/7/365 Nachtschicht- und wochenendtauglich
Der Aquios CL Load & Go bietet viele Vorteile ... schnell, effizient, platzsparend, vollautomatisch. Vor allem aber ist der Aquios mit einer einzigen Tagesschulung vor Ort leicht zu bedienen. Einfach gesagt ist der Aquios ein bahnbrechendes Lösungskonzept für die grundlegendsten Bedienungsanforderungen der Durchflusszytometrie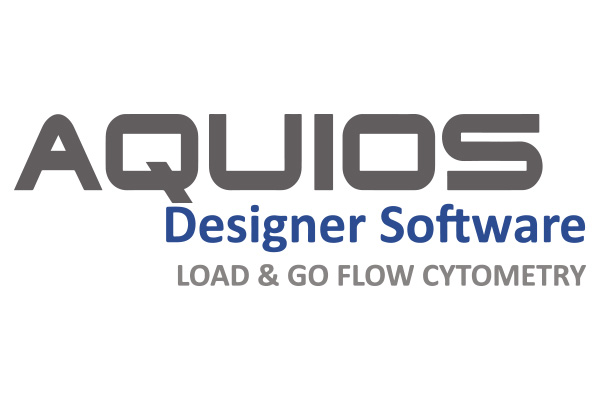 The AQUIOS Designer Software allows you to combine your user-defined assays with the Load & Go automation features of the AQUIOS CL. You can create user-defined tests, adapt sample preparation to your specific needs as well as implementing user-defined control material.
NOT ALL PRODUCTS ARE AVAILABLE IN ALL COUNTRIES.
PRODUCT AVAILABILITY AND REGULATORY STATUS DEPENDS ON COUNTRY REGISTRATION PER APPLICABLE REGULATIONS. To check if the product is available in your country, please contact your local sales representative or create a request.
AQUIOS CL Workflow

Technische Dokumente
Didn't find what you are looking for? For more results click
here.