Technology Review: Gain Independent Compensation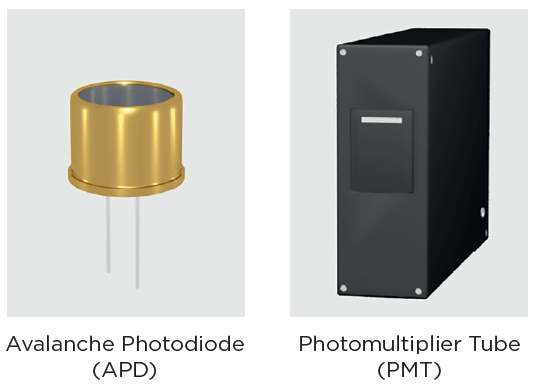 Zwei Arten von Photonendetektoren werden zur Verstärkung und anschließenden Umwandlung von Licht in elektronische Signale in der Durchflusszytometrie eingesetzt. Der traditionelle Detektor ist der Photomultiplier (PMT). Lawinenphotodioden (APD) sind eine andere Art von Photonendetektor, die im DxFLEX-Durchflusszytometer verwendet werden.
Dabei wird eine Spannung angelegt, die das Elektron durch den Detektor beschleunigt, um das Signal zu verstärken. Durch Erhöhung der Spannung wird die Energie der Elektronen erhöht und das Signal verstärkt. Ein Maß für die Verstärkung ist eine einheitslose Größe, die als "Gain" (Verstärkung) bezeichnet wird.
Signalintensität gegenüber Verstärkung: Photomultiplier gegenüber Lawinenphotodiode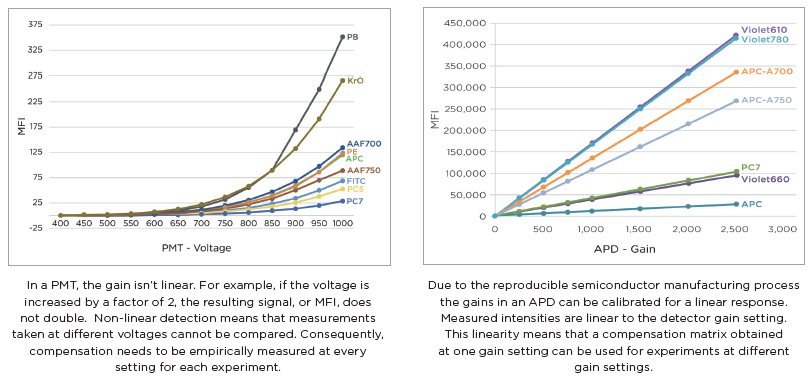 CytExpert für den Import von DxFLEX-Erfassungs- und Analysesoftware-Kompensation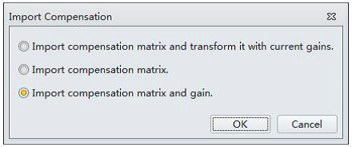 Verwenden Sie die vorgeschlagenen Einstellungen für die Verstärkung, um eine Kompensation zu erstellen. Verwenden Sie Beads, um die einzelnen farblichen Verfärbungen zu erfassen. Speichern Sie sie in der Kompensationsbibliothek oder exportieren Sie sie in eine Kompensationsdatei.
Importieren Sie die Kompensation und die Verstärkungen in den neuen Versuch.
Passen Sie dann die Verstärkungen auf der Probe an, falls erforderlich, die Kompensation wird automatisch angepasst.
VERSUCHSABLAUF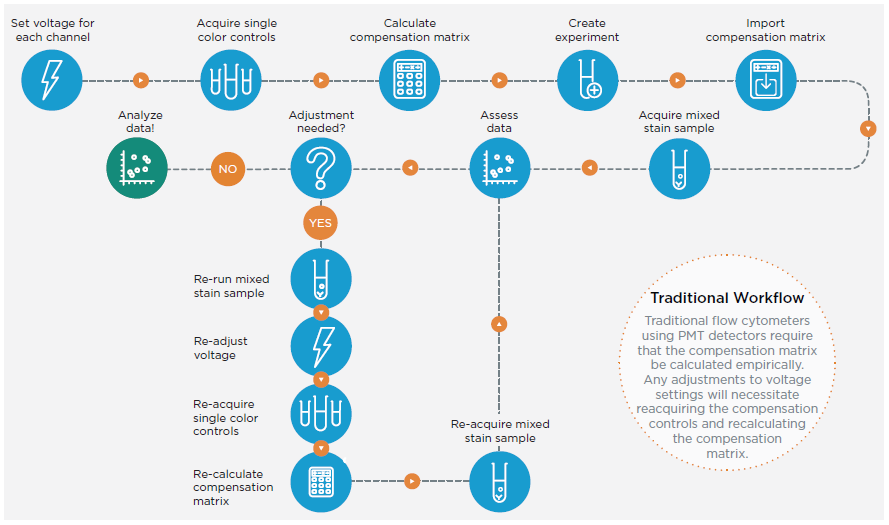 DxFLEX-ARBEITSABLAUF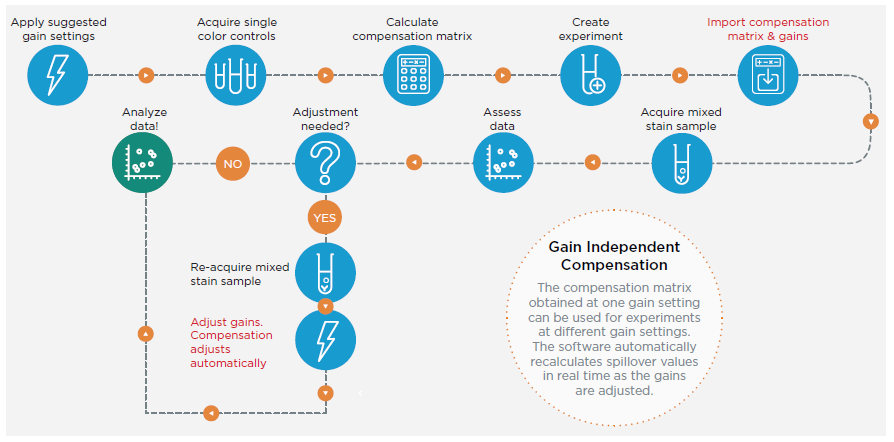 DxFLEX ist ein IVD-Instrument, das nur in Ländern erhältlich ist, in denen die behördliche Zulassung von den lokalen Aufsichtsbehörden erteilt wird. Bitte erkundigen Sie sich bei Ihren örtlichen Vertriebsmitarbeitern, bevor Sie Ihre Bestellungen aufgeben.
DxFLEX APD-Technologie
Signal Intensity versus Gain: Photomultiplier Tube Versus Avalanche Photodiode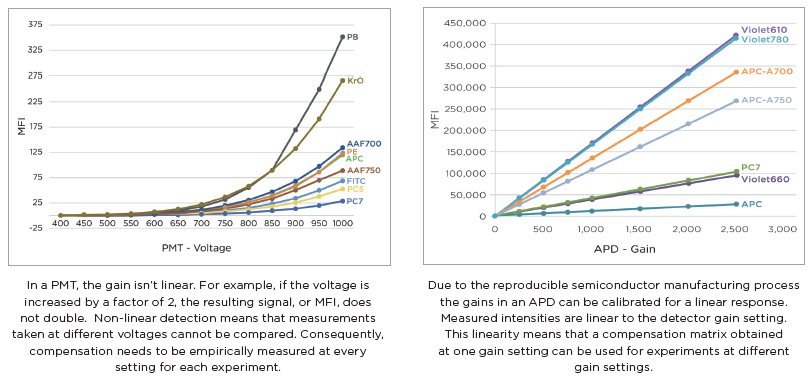 CytExpert for DxFLEX Acquisition and Analysis Software Compensation Import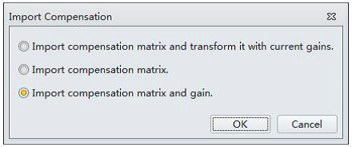 Use Suggested Gain settings to create compensation. Use beads to acquire the single color stains. Save to the Compensation Library or export to a Comp file.
Import the compensation and gains into the New Experiment.
Then adjust gains on the sample if needed, compensation will automatically adjust.
Experimental workflow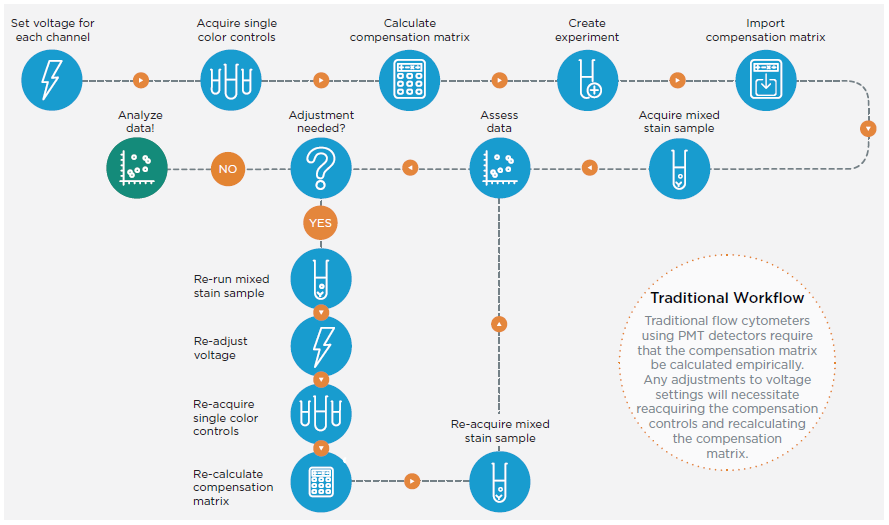 DxFLEX workflow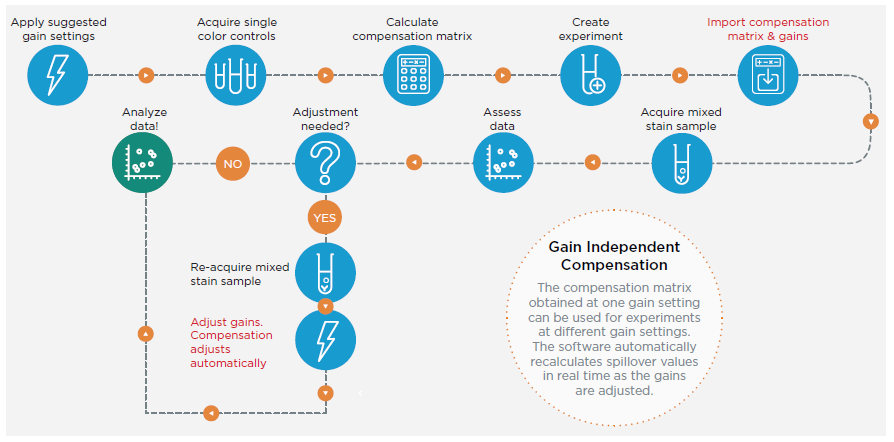 DxFLEX is an IVD instrument that is available only in countries where the regulatory approval is obtained from the local regulatory agencies. Please check with your local sales representatives before placing your orders.