Access Single Robot System for Synthetic Biology Workflows
Miniaturize and Accelerate DNA Assembly and QC for Gene Synthesis
Echo Acoustic Liquid Handling
The Echo acoustic liquid handling technology revolutionizes life sciences by using sound energy to provide highly accurate, fully automated, non-contact dispensing of fluids at a nanoliter scale. This enables workflow miniaturization and significant savings in reagent and resource costs.
Traditional DNA assembly methods require reactions of 10–20 microliters per well. The Echo Liquid Handler can reduce the volume up to 100-fold, drastically cutting reagent costs. With the ability to reliably transfer volumes as low as 2.5 nanoliters, Echo systems can extend the useful life of a primer library and eliminate the need to dilute high-concentration primers, saving on storage and primer costs and preventing dilution errors.
When performing assembly QC, the use of the Echo Liquid Handler for NGS library preparation allows for up to a 100-fold reduction in reaction volumes, which also reduces reagent costs. In addition to miniaturization, the Echo system can rapidly pool oligos or DNA fragments from library plates. Since there is no contact with the fluid and no time spent changing or washing tips, the Echo system can transfer each oligo or fragment from any well of a microplate in less than a second. This can save 15 hours in a high-throughput setting. Furthermore, with the low transfer volumes of the Echo system, high concentration libraries do not have to be diluted prior to transfer, allowing for simultaneous normalization while pooling. This greatly reduces the time to normalize and pool libraries and improves the reliability of the entire library preparation process.
Save 15 Hours on Your Synthetic Biology Workflow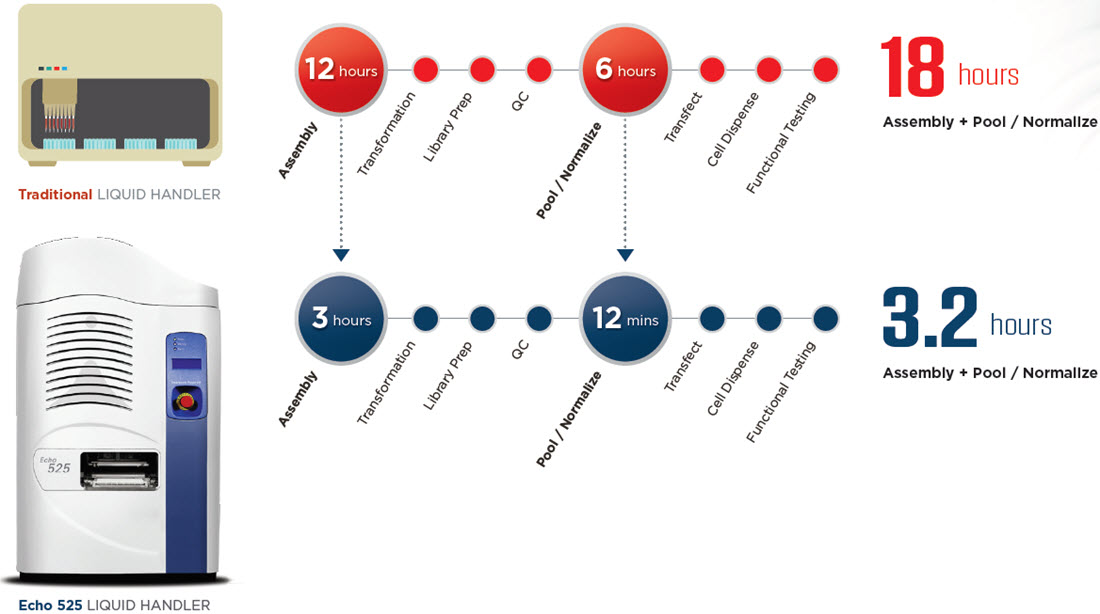 An Integrated Solution for Synthetic Biology Workflows
Access Single Robot System
The Access Single Robot System (SRS) combines the revolutionary performance of the Echo Liquid Handler with automated plate handling and integrated devices to create walkaway systems tailored for a range of genomics applications. The modular and scalable Access SRS offers end-to-end automation for many synthetic biology workflows including:
DNA assembly

PCR/qPCR setup

Pooling and normalization

Assembly QC
This high-throughput, fully automated system produces high quality synthetic DNA constructs while reducing costs, waste, and workflow turnaround time.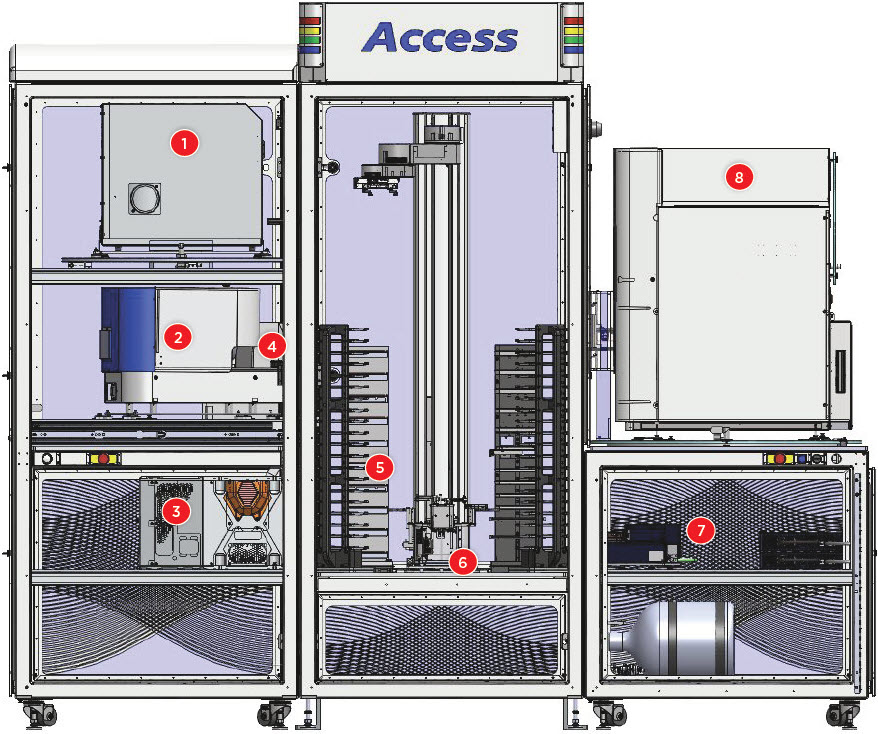 Example Device Configuration for Synthetic Biology Workflows
BMG PHERAstar FSX Multimode Reader
Brooks Xpeel Peeler
BioNex HiG 3 Centrifuge
Agilent PlateLoc Sealer
Temperature Control Stations
Formulatrix Mantis Dispenser
Inheco ODTC 384 or 96-well Thermal Cyclers
Echo 65X or 525 Liquid Handler
Other Accessories Include:
Delidder, Barcode Reader, and Random Access hotels
Echo Qualified Source Microplates
Echo Qualified 384-well Source Microplates ensure precise, accurate liquid transfers, delivering the best possible results in miniaturized assays. Echo Qualified Source Microplates are deionized and are packaged in anti-static bags to ensure precise drop placement. Microplates are available with low dead volume, custom barcode, tissue culture-treated, or sterile options.
The Echo Qualified Reservoir microplate, for use with the Echo 525 Liquid Handler, enables convenient assay assembly and efficient large reagent volume transfers, with the ability to dispense up to 2.55 mL per well.
Software Applications
The Access SRS includes Tempo Automation Control Software to adapt Echo Software Application protocols into fully automated routines. Tempo software readily integrates with Echo Software Applications, LIMS systems, analysis software, and other tools such as DNA design software to completely automate critical synthetic biology workflows.
Echo Software Applications that assist with synthetic biology workflows include Echo Cherry Pick, which guides file-driven transfers from any well to any well, and Echo Plate Reformat, which enables the design of custom layouts used to assemble assays or reformat and replicate screening libraries.
Beckman Coulter Life Sciences liquid handlers are not intended or validated for use in the diagnosis of disease or other conditions.