AMPure XP für die PCR-Aufreinigung
Cleanup und Größenauswahl
Sie können unsere eigens entwickelte paramagnetische SPRI-Bead-basierte Chemie verwenden, um Kontaminanten (dNTPs, Salze, Primer, Primerdimere) in Ihren NGS-Workflows zu entfernen.
Wird in einer Vielzahl von NGS-Bibliotheksvorbereitungschemien verwendet
Kompatibel mit manueller und automatischer Verarbeitung
Hohe Ausbeute von Amplikons größer als 100 BP
Vorhersehbare und konsistente Auswahl an Größen
Benötigen Sie ein Analysezertifikat (Certificate of Analysis, COA)? Verwenden Sie die Suchleiste oben auf der Seite und suchen Sie Ihre Chargennummer.
Explore AMPure XP Reagents
Explore DNA-Aufreinigung Models
AMPure XP Arbeitsablauf

Produktmerkmale
Überblick
AMPure XP entfernt unerwünschte Verunreinigungen von DNA in einer Vielzahl von Anwendungen wie PCR, NGS, Klonen und Microarrays.
Hohe Wiederfindung
Eine effiziente Wiederfindung Ihrer Probe stellt sicher, dass kritische Daten innerhalb des Workflows nicht verloren gehen.
Gold-Standard für NGS-Workflows
Bewährtes und empfohlenes Reagenz für die Schritte der Größenauswahl und des Cleanups innerhalb einer Vielzahl von NGS-Workflows.
Flexibel und skalierbar
Manuelle Bereinigungen mit AMPure XP benötigen weniger als 30 Minuten. Für höhere Durchsatzanforderungen ist AMPure XP auf allen Biomek-Plattformen automatisiert und ermöglicht Hunderte von Probendurchläufen pro Tag.
Zitierungen
Peffers, M. J., Liu, X., & Clegg, P. D. (2014, March 8). Transcriptomic profiling of cartilage ageing. Genomics Data, 2, 27-28. doi:10.1016/j.gdata.2014.03.0011
Zum Cleanup von cDNA verwendet
Greenwald, W. W., Li, H., Benaglio, P., Jakubosky, D., Matsui, H., Schmitt, A., . . . Frazer, K. A. (5. März 2019). Subtle changes in chromatin loop contact propensity are associated with differential gene regulation and expression. Nature Communications, 10(1054), 1-17. doi:https://doi.org/10.1038/s41467-019-08940-51
Zum Cleanup von PCR-Reaktionen mit Strichcode während der Bibliotheksvorbereitung verwendet
Kein Verlust kritischer Daten
Wenn so viel mehr in Ihre Forschung investiert wurde, ist AMPure XP die einzige Wahl für Reinigungs- und Cleanup-Schritte. Ertragsverluste während dieses kritischen Schritts führen zu Entdeckungsverlusten in Ihrer Forschung.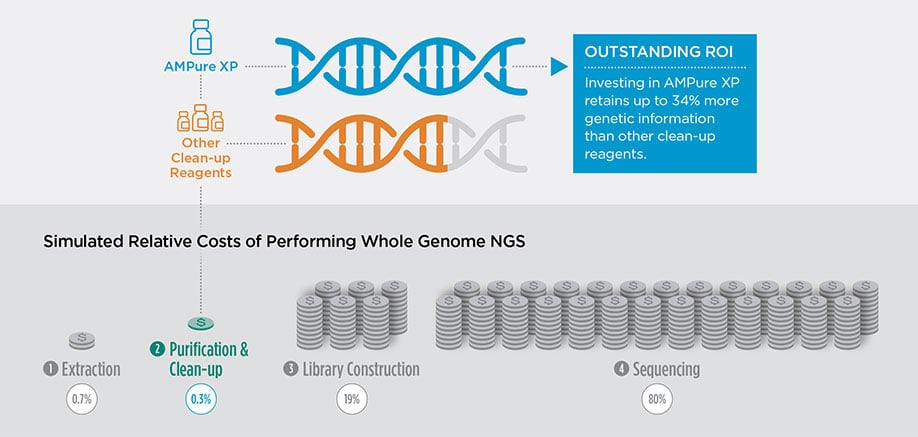 AMPure XP ist der Goldstandard für die Bead-basierte Next-Generation Sequenzierung (oder NGS) das Cleanup
Mehr als 200 Bibliotheksvorbereitungs-Kits schlagen die Verwendung von AMPure XP vor, darunter auch Kits von angesehenen Sequenzierunternehmen, wie:
Illumina®
Nanopore
PacBio
Thermo Scientific
Über 15.000 Publikationen verwendeten AMPure XP, auf die in Artikeln in Science, Nature und PNAS verwiesen wird.
Die Reinigung und Aufbereitung von Nukleinsäuren ist für genomische Anwendungen obligatorisch, einschließlich Sequenzierung, qPCR/ddPCR/PCR und Mikroassays. Durch Maximierung der Wiederfindung, Konsistenz und Geschwindigkeit erfüllt AMPure XP die hohen Anforderungen der heutigen genomischen Anwendungen und minimiert das Risiko für den Verlust wichtiger genetischer Informationen.
Hohe Ausbeute von Amplikons größer als 100 BP
Effiziente Entfernung von nicht aufgenommenen DNTPs, Primers, Primer-Dimeren, Salzen und anderen Verunreinigungen
Vorhersehbare und konsistente Auswahl an Größen
"Unsere Ergebnisse legen nahe, dass AMPure XP die beste Wahl für Analysen ist, bei der eine sehr hohe analytische Strenge erforderlich ist." Mikheikin, A., Olsen, A., Picco, L. et al. High-speed atomic force microscopy revealing contamination in DNA purification systems. Anal. Chem. 88:5, 2527-2523 (2016) doi: 10.1021/acs.analchem.5b04023.1
1Haftungsausschluss: Beckman Coulter gibt keinerlei ausdrückliche oder stillschweigende Garantien jeglicher Art in Bezug auf dieses Protokoll, einschließlich, aber nicht beschränkt auf Garantien der Eignung für einen bestimmten Zweck oder der Marktgängigkeit oder dass das Protokoll keine Rechtsverletzung darstellt. Jegliche Gewährleistungen werden hiermit ausdrücklich ausgeschlossen. Die Anwendung der Methode erfolgt ausschließlich auf Ihr eigenes Risiko, ohne Rückgriff auf Beckman Coulter. Nicht für den Gebrauch in der Diagnose von Krankheiten oder sonstiger Gesundheitszustände gedacht oder validiert. Dieses Protokoll dient nur zur Demonstration und wird nicht von Beckman Coulter validiert.
Technische Dokumente
Didn't find what you are looking for? For more results click
here.