Lichtabschattung: ein optisches Verfahren zur Erfassung von Partikeln
Lichtabschattung oder SPOS (Single Particle Optical Sensing) ist ein hochauflösendes Analyseverfahren, mit dem ein kleiner Prozentsatz von Ausreißern erkannt werden kann. Es kann auch für einen Überblick über die Größenverteilung insgesamt verwendet werden, wobei es wichtig ist, beim Einsatz eines Partikelzählers mit Lichtabschattung die Probenkonzentration zu beachten. Die Probe muss zur Analyse in verdünnter Form vorliegen.
Lichtabschattung funktioniert, indem ein verdünnter Partikelstrom in einer flüssigen Suspension zwischen einer Lichtquelle und einem Detektor hindurchbewegt wird. Beim Flüssigpartikelzähler HIAC 9703+ ist die Lichtquelle eine Laserdiode, die einzelne Partikel im Strom beleuchtet und dadurch einen Schatten auf dem Detektor verursacht. Diese Lichtabschattung wird auch "Extinktion" genannt. Der Detektor misst die Verminderung der Lichtintensität und verarbeitet das Signal mithilfe einer Kalibrierungskurve, um daraus die Partikelgröße abzuleiten.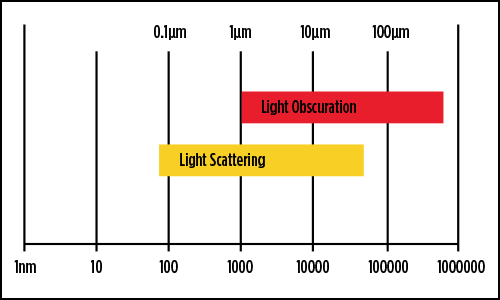 Light obscuration technique provides good results from one to several thousand microns for any kind of foreign material in a liquid.
Lichtabschattung wird für eine Vielzahl pharmazeutischer Bereiche verwendet und von ISO und USP als primäres Verfahren zur Messung der Größe und Anzahl von Partikeln in verschiedenen Proben anerkannt, so auch für Formulierungen auf Proteinbasis und andere sterile Präparate.
Vorteile der Lichtabschattung
Rasche Analyse – Ergebnisse innerhalb weniger Sekunden
Automatisierter Prozess – verhindert Bedienungsfehler
Keine zusätzlichen Chemikalien/Verbrauchsmaterialien notwendig
Wiederholbar und reproduzierbar mit verschiedenen Geräten
HINWEIS: Der Flüssigpartikelzähler HIAC 9703+ ist für eine Vielzahl an pharmazeutischen Anwendungsbereichen vorgesehen und eignet sich für Analysen gemäß USP <787> sowie <788>.788>787>