Get the answers you need with the Optima AUC
From analytical/QC, to process development, unlock the full potential of the Optima AUC with multiple techniques in a single instrument. Density Gradient Equilibrium AUC (DGE-AUC) can handle a vast array of samples including viral vectors (like AAV and adenovirus), plasmids and more!
Multiple orthogonal techniques in one instrument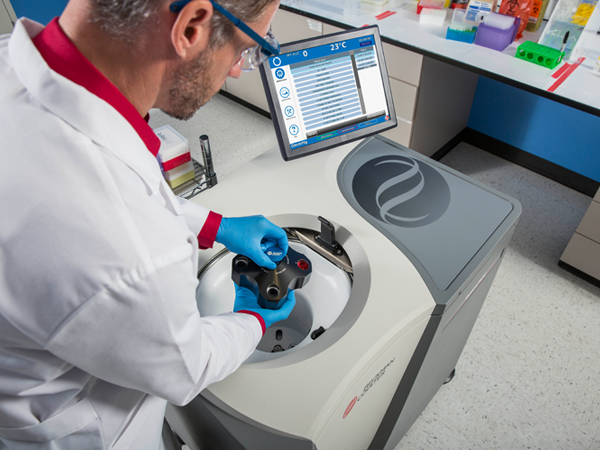 The Optima AUC is a versatile tool for your lab with the ability to use:
Sedimentation Velocity (SV)
Density Gradient Equilibrium (DGE)
Analytical Band Centrifugation (ABC)
Sedimentation Equilibrium (SE)
Each of these operate based on different principles and provide complementary information. With the Optima AUC, you have the flexibility to choose experiment type(s) based on the answer you need.
For example, an AAV workflow could include DGE for rapid, high-throughput quantification of particle fullness for in-process samples and SV could be used for attaining the highest resolution answers, including aggregation, necessary for final lot release.
You can use the same hardware across experiments, so think of the Optima AUC as your all-in-one separations toolbox.
Sample tolerance
Because DGE-AUC is an endpoint analysis at equilibrium, you're not limited by how quickly you can rapidly sedimenting particles at various wavelengths. DGE can handle a vast array of samples including viral vectors (like AAV and adenovirus), plasmids and more.
If there's a density difference, the DGE-AUC method can work for you.
DGE can even tolerate dirty samples and common buffer components and stabilizers like pluronic and sucrose.
Expedited method development
In a single DGE-AUC run you can evaluate a multitude of parameters to quickly screen optimal conditions, such as density, speed, sample concentration and runtime. Live data viewing provides an opportunity to monitor the approach to equilibrium process and track the sample and gradient formation independently with absorbance and interference optics, respectively. If you see an experiment isn't progressing as expected after an hour, stop the experiment and restart!
Especially when using 6-channel centerpieces, 21 samples can be assessed simultaneously in a single experiment. Coupled with a multi-speed protocol, an optimal set of experimental conditions maximizing sensitivity and resolution can be determined with a single experiment.
Get started running DGE-AUC Experiments with the Optima AUC
Ready to start spinning up DGE experiments for robust and simple data analysis? We can help!
Get in touch today to find the best solutions for your lab!
*Third-party analysis software, including Excel and Origin, has not been validated by Beckman for use with the Analytical Ultracentrifuge. Beckman does not endorse any third-party analyses software. Beckman warranty and/or performance guarantee that may be applicable or are provided by Beckman for Analytical Ultracentrifuge do not apply to any third-party software.