Automated Solutions for Cell Line Development
Your Guide to Workflow Intelligence
Product Solutions
Biomek i7 Automated Workstation
Improve procedural ELISA, achieve single cell suspension reliably, simplify transfection optimization, and adapt basic cell culture workflows.
Extend production scale and centralize operations
Leverage dual-arm pipetting
Flexibility with reagent and media mixing, and cell passaging and plating
Improve efficiency by directly integrating required components
Simplify serial dilutions with built-in spanning transfer system
Improve analysis efficiency with sample and data tracking*
Take control of multi-day planning*
Monitor progress with platform status light
Remote system monitoring using on-deck cameras
*Possible through optional software packages DART and SAMI.
Orbital Shaker
Promote cell health with user-definable and reliable agitation of microplates, cultured cells, or general vortexing.
Smooth and continuous motion, enabling nutrient diffusion without splashing


Timed oribtal and pulse shaking

Ramped acceleration/deceleration


Shaking speed ranges from 100 rpm to 1800 rpm

Space saving
Easily integrated with Biomek i7


Increases experimental flexibility
Reagent Dispensers
Accelerate assay-specific or maintenance laboratory protocols with automated, precise dispensing. Ensure the accuracy of reagent dispense volumes.
Simplify workflows
Dispense a wide range of volumes
Minimize contamination


Interchangeable dispensing heads available

Increase accuracy


Superior mixing
Reduce air bubble formation

Integrates with Biomek i7


Flexibility to configure reagent containers of wide-ranging volumes
Automated Labware Positioners (ALPs)
Workstation-integrated and interchangeable components that perform specific tasks. ALPs make it possible to configure the platform for accommodation of a wide range of applications.
Peltier
Shaking model shakes microplates at speeds ranging from 100 rpm to 1400 rpm
Temperature control capable

Tilting ALP
Controlled and gentle media exchange
Media is removed from edge of well without disturbing adherent cells
Incubator
An incubator provides a consistent environment for the housing of growing cell cultures and for the temporary incubation of cells underdoing experimental assays.
Temperature can range from 4° C to 70° C, with a relative high humidity (RH) of up to 98% stable CO2 conditions, and shaking


Mammalian cell conditions: 37° C, 95% RH, and 5% CO2

A Biomek i7 integration with an incubator eliminates recovery loss and reduces assay variance


Increase throughput
Streamline long-term cell culture processes
Eliminate manual, repeated accessing of cells
Vi-CELL BLU
Eliminate human error and user bias when counting cells and determining viability.
Automated solution for Trypan Blue viability assays
Analyze mammalian, insect, and yeast cell types (2–70 microns)
Clumpy samples can be differentiated in number and viability
Quickly and reliably assess cell shape, size, growth rate, and doubling time
Enhance statistical reliability
Convenient reagent kit, concentration control, and sample cups
Viable cells are outlined in green and nonviable in red: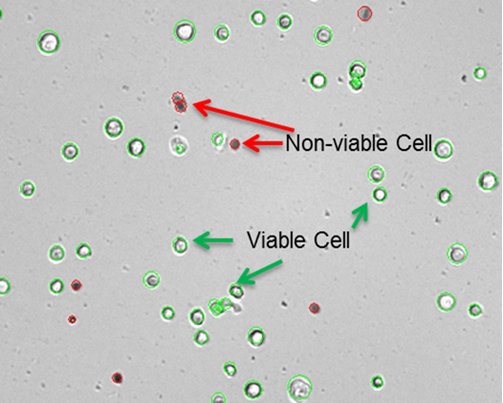 CloneSelect™ Imager
Rapidly and objectively monitor cell growth, verify cell line monoclonality, and normalize measurements specific to cell productivity.
Ultra-fast benchtop imaging system for:


Confluence measurement
Growth curve generation
Cell number estimation
Monoclonality verification
Colony forming assays
Cytotoxicity assays
Cell migration assays

Consistent results in less time
Saves all images and generated data
Integrates with Biomek i7 workstation
"CloneSelect Imager has become an essential system for verification of monoclonality within our cell line development workflow."
− Dr. Howard Clarke, Process Development, CMC ICOS Biologics Inc., USA
ValitaTiter
ValitaTiter is a plate based, 96 and 384-well assay that offers a rapid, cost effective way to measure IgG.
Robotic Arm
Offers dependable precision and flexibility that not only increases useable workspace, but reliably operates around the clock to eliminate human variability.
Multiple axis points can reach peripheral equipment
Walk away capability increases personnel productivity
Accelerates time to results
Enhance data reproducibility
Improve laboratory ergonomics
Integrates with Biomek i7
Capper/Decapper
Hands-free automated capping and decapping technology ensures sample protection, wholeness, and quality.
Cap tubes to optimal torque
Reliably increase throughput
Improve laboratory ergonomics
Benchtop or integrated use
Internal controls prevent contamination and debris introduction
Robotic Shuttle
Controlled robotic plate management with a customizable conveyor track assists with handling consistency and eliminates human-induced accidents.
Conveyor transports plates from location the Biomek deck to off deck components within the workstation
Allows for simultaneous transports on and off deck for maximum efficiency
Streamlines workflow for maximum productivity
Avanti JXN
High-Speed Centrifuge
Enhance isolation and purification workflows for a variety of bioproduction needs.
Friction reduction system (FRS) for quicker, quieter, and cooler runs
Shorter cycle times with high-torque and switched reluctance (SR) drive cycle
Remote run setup and monitoring
Hands-free door operation
Track and control usage and samples
Efficient, safe workflow matches industry compliance
Workflow Solutions
Learn about the solutions for each critical step of the process of developing a mammalian cell line for recombinant protein manufacturing using a methotrexate (MTX) amplification system, one of many integrated transfection methods by Beckman Coulter.

Automation can increase efficiency and consistency in selecting high producing cells with desired Critical Quality Attributes.
Cell Line Engineering
Optimal host cell transfection is dependent on cell health, degree of confluency, DNA quality and quantity, number of passages, contamination, and transfection reagent or method. OUR SOLUTIONS:
Biomek i7 Automated Workstation
Preparation of transfection reagents, addition of expression plasmid and transfection reagents
Cell plating, handling, and maintenance minimize human error, enhancing reproducibility and enabling continuous production
Vi-CELL BLU Cell Viability Analyzer
Count and image cells
Stain cells and measure viability
Reagent Dispenser
Configure reagent containers of wide-ranging volumes
Robotic Arm
Moves plates between workstation and analyzer
Cell Line Characterization
Select colonies by sub-cloning, which includes performing multiple rounds of serial dilution to identify the most stable and highest-producing single cell clone. This step is labor intensive and requires weeks to complete.
OUR SOLUTIONS:
CloneSelect™ Imager
Verify monoclonality
Optimize and monitor clonal outgrowth
Biomek i7 Automated Workstation
Cell-plating, handling, maintenance, and hitpicking
Automated Labware Positioners (ALPs)
Perform application-specific or general tasks to expedite protocols
Reagent Dispenser
Configure to dispense reagents from different containers and wide-ranging volumes

Robotic Arm
Moves plates to/from workstation, incubator*
Cell Line Characterization
Expand the clone producing your desired protein to begin the process development and optimization stage. Certifying clone productivity and quality is fundamental to efficient cell line scale up. Maintaining cell culture health and stable production are common pitfalls during this step. OUR SOLUTIONS:
Vi-CELL Cell Viability Analyzer
Count and image cells
Stain cells and measure viability
Biomek i7 Automated Workstation
Robotic Arm
Moves plates to/from workstation and analyzer
Robotic Shuttle
Conveyor track eliminates human-induced mishaps during transport
Speed and acceleration can be controlled to prevent splashing in larger-well plates
Avanti JXN High-Speed Centrifuge
Isolate and purify products reliably and efficiently
Process Development
As you scale up, media optimization will enable maximize protein production. An ideal approach is using a factorial design of experiment (DOE), where a variety of media components are tested at different concentrations in combination with one another. Automation of DOE eliminates any sample preparation beyond an optional dilution step and the high throughput models can process up to 96 samples simultaneously.
OUR SOLUTIONS:
Biomek i7 Automated Workstation
Tight control of media dispensing volumes
Gentle cell handling through controlled speed prevents cell shearing and damage
DOE optimization with multi-channel selection tip
ValitaTiter
CloneSelect™ Imager
Reagent Dispenser
Configure reagent containers of wide-ranging volumes
Biomek Automated Workstations are not intended or validated for use in the diagnosis of disease or other conditions. Beckman Coulter Life Sciences genomic reagent kits are for research US only.